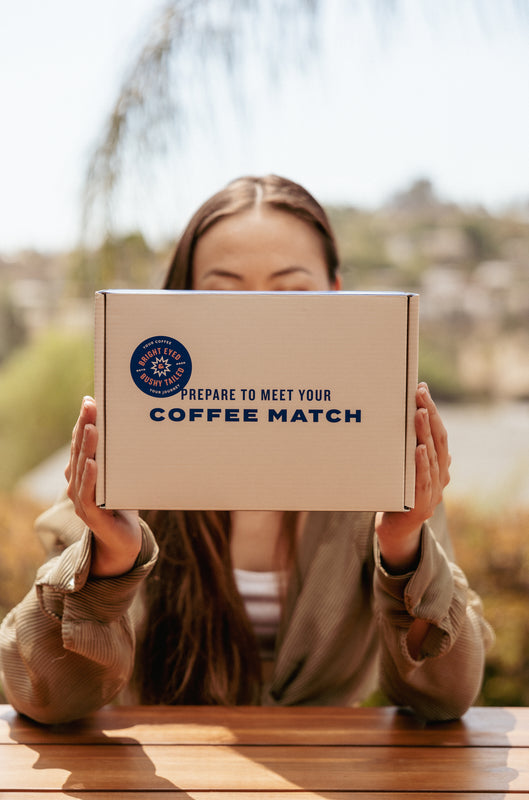 Coffee should be easy
When did choosing coffee become so confusing? At Be Bright, we match you with the perfect coffee just for you, just the way you enjoy it. So you can stop drinking coffee you don't like and start each day on the bright side.
Are you overwhelmed with all the different choices of coffees to choose from at your local market or cafe? Where do I start? And what's the difference between single origin and blend? And what's a honey process? At Be Bright, we don't use words to describe our coffees you're not familiar with.
You deserve the coffee you love without the hassle of knowing where to start. Just answer a few questions and we'll match you to a coffee based on preferences you choose.
Let us be your guide
We know what it feels like to feel overwhelmed about where to start your coffee journey.
We've been there…We believe coffee shouldn't be so confusing. So, after a decade in the coffee industry and tasting over hundreds of coffees, we've created a coffee selection experience that is easy and effortless.
Have an idea of what kinds of coffees you like? Choose your coffees from these 4 categories.
Shop Now
COFFEE MADE SIMPLE
DISCOVER YOUR PALATE
THE RIGHT COFFEE FOR YOU
YOUR COFFEE, YOUR JOURNEY
"

I have a hard time choosing new beans because it's hard for me to pull consistent and good espresso shots. I've been using other beans and always went back to it because it was the easiest for me. But I just pulled a shot using the Vivid Espresso beans and it pulls so smoothly. I'm a changed man.

"
— Chris S, a newly converted vivid espresso drinker
"

It's so easy! I make cold brew at home everyday. Ever since I started using Be Bright, my coffee has been spot on. You could call me a happy camper, or brewer rather!

"
— Gina S, a happy brewer
"

I used to have a hard time choosing the right coffee for me. But ever since I took the quiz and found my coffee match, every cup has been exactly to my likings. Not sure how I got through my mornings before this..

"
— Hannah L, a Rich & Smooth Coffee drinker
WORK WITH US
We are always looking for the right partners to grow with. If your restaurant, cafe, office, hotel or establishment needs a coffee solution, we're here to help. With over 10 years in the hospitality industry, we can offer solutions for your coffee needs and more.
Let's connect